Signs You May Be Dealing With A Termite Infestation In Savannah
January 15, 2022
Termites are a major source of destruction for home and business owners around the world. In the U.S. alone, these pests cause over 5 billion dollars worth of damage. While termites may seem like an uncontrollable force of nature, there are means of prevention and control that can save you from having to pay those costs. Read on to learn more about the different kinds of termites, what causes them, the threats they pose to your Savannah property, and a termite service that protects your home.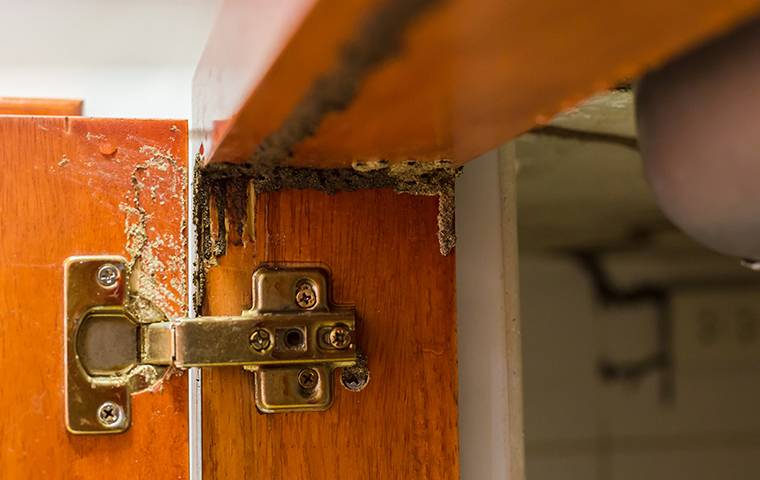 What Are Termites?
There are two different kinds of termites common in Savannah. Termite identification for these species is a little different based on their social habits and appearances.
Subterranean Termites
The Subterranean termite lives underground, only venturing out of the safety of moist soil through mud tubes they construct to access wood, usually around a home's foundation. This species of termite has a complex social hierarchy involving reproductives (the king, queen, and alates), workers, and soldiers.
The king and queen are unlikely to be seen, while alates are more common. With dark brown bodies and translucent wings, they grow to around ½ of an inch and tend to swarm after rain. Workers are smaller at about ¼ of an inch and are cream-colored. Soldiers are also cream-colored but have darker-colored heads, large mandibles and are flatter and wider.
Drywood Termites
Drywood termites are another threat to Savannah residents. These termites don't need moist soil nearby and can target your driest wood, such as attic timbers. While subterranean termites can have networks of around 60,000 in a colony, drywood termites form colonies of only about 2,500 members, and they do not have the same social hierarchy as the subterranean termite.
This species is creamy white to light brown in color and grows much larger at up to 1 inch in length. They are long, narrow, and oval-shaped with more wing than body. These winged termites swarm on sunny, warm days. Termite identification for drywood termites is a lot easier because of their uniformity.
Top Six Signs Of Termite Infestation
Both types of termites leave signs as to their presence, though they're hard to see by the untrained professional. If you fear an infestation, look for these six signs:
1. Tight-fitting doors and windows

2. Soft clicking noises from the walls

3. Saw-dust like feces called frass

4. Bubbling or discolored paint

5. Mud tubes or kick holes

6. Shed wings around windows and doors or other openings
How Do You Get Termites?
Termites travel through soil, wood, and contaminated furniture to infest your home. The cause of termites is usually a pre-existing problem where a home was built or an accidental adoption from infested wood. Still, once they've made it onto your property, there isn't much that will deter termites from enjoying your fresh, unpainted timbers. Regardless of the cause of termites, these pests cannot be dealt with through DIY methods, and relying on over-the-counter products to control these prolific insects could jeopardize your home in the long run.
How To Stop Termites
Professional termite service from Prestige Pest Control is the number one way to prevent catastrophic damage from a termite colony. Some other prevention methods include treating or painting exposed wood, pretreating soil, keeping soil out of contact with your foundation, and maintaining moisture levels in attics and the soil.
However, if you already have an infestation, Prestige Pest Control is the only way to give you the peace of mind of total elimination. Don't waste time and money trying to control the infestation yourself. Call Prestige Pest Control for pest control in Savannah today.
Previous
Next